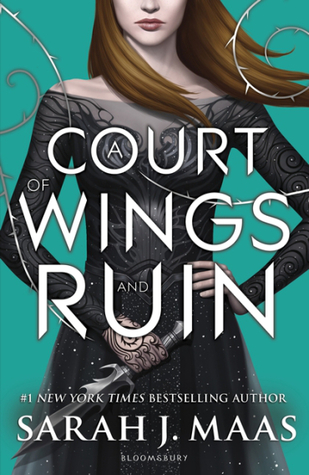 A Court of Wings and Ruin
by Sarah J. Maas
Rating: ★★★★★
Feyre has returned to the Spring Court, determined to gather information on Tamlin's maneuverings and the invading king threatening to bring Prythian to its knees. But to do so she must play a deadly game of deceit-and one slip may spell doom not only for Feyre, but for her world as well. As war bears down upon them all, Feyre must decide who to trust amongst the dazzling and lethal High Lords-and hunt for allies in unexpected places.
*No spoilers for events ACOWAR but this review will include details of the previous two books*
A Court of Wings and Ruin, my attention has been thieved away from me because of this book over the past month but then really aggressively over the past few days in the slow wait towards the release where people were getting early copies delivered to them and I was (not) patiently waiting. I would say this book was worth the wait though because it was huge, the story progressed at a good, even pace and I was really satisfied with the plot. After the events of A Court of Mist and Fury, I had a few questions like what the hell happened to Nesta in the cauldron? How long would Feyre be working in the Spring Court? Would someone die in this book and during the war?! And I won't say if you find out any of the answers to those questions so you'll have to read and see but I'm pleased overall even if I was deeply emotional at times.
I'm super pleased that this book was a thrill from the start to the end for me. The opening chapter was a reflection on a previous war and opens up for the theme of the book, which as everyone knows, is the impending war between the freedom and slavery of Fae and humans under a tyrant. It is a little depressing because no-one likes war and I don't find it particularly interesting to read about when it gets to those huge fights in a book series but this trilogy can make anything interesting apparently. I was super excited throughout the chapters after that though when we started Feyre's deadly journey into the Spring Court after the final events of A Court of Mist and Fury. Personally, I wanted to see her take the Spring Court and Hybern to its knees and burn the place to the ground but what she was in this book was even more complex than I could have thought. Feyre was truly brilliant in all her inner workings during her time there and it was such a thrill to read through that first part of the book.
Feyre was an incredible main character, as always, but we were also blessed from the Cauldron with a few chapters from Rhysand's point of view. That really helped establish the story since Rhys has a history with the other High Lords and with the war itself since he is over five hundred years ago compared to Feyre who is only twenty years old and is new to all of their ways. So we get all of that new information coming right from the source and not stuffed into conversation coming to Feyre but we also get to see just how good and pure Rhysand is as a person as if we didn't already know! And while Feyre is still coming into her powers in this book as a very powerful High Fae that was made she will always be a total badass and favourite female character of mine. I was so proud of her journey throughout this book and I hope everyone else is too.
Another woman in these books that had a very interesting plot in this book was Morrigan. She has a lot of responsibility in the Court and has a really difficult, awful past with her family so being thrown together with some men she despises because of all the Court relations coming up to the inevitable war tested her throughout the book but ultimately it helped her accept and deal with things she couldn't previously and I'm also so proud of my lovely, dangerous Mor. Azriel also had a huge part in this book and he was such a rock for the other members of the Court. I wouldn't say he had a whole lot going on for himself in the book but I'm glad that he was around often and there for everyone. Amren was actually very similar in that way because she spent most of her time working on the book and being there for the family so I hope they could maybe get books about their pasts or something else because they're both really interesting characters that didn't get to shine too much during this book.
Guys, unpopular opinion: I don't like Nesta! I'm sorry but I can't help it but I've just had a grudge against her ever since the first book because of her horrible treatment of Feyre. I know we should sympathise with her because she was brought into this world because of her connection to Feyre and changed forever but before that, she was still so awful to her and I just can't get past that. I did enjoy reading about her in this book and I did start to like her towards the end as she started to shed that "woe is me" persona and became more accepting of the people trying to help her but at the start I was very against her and I'd be interested in hearing everyone else's opinion on her and her actions. Cassian was also a huge strength for Nesta and everyone throughout this book as such a strong-willed warrior and friend. Since he promised he would protect Nesta and Elain he's clearly wracked with guilt after the events of the last book (totally not your fault Cassian!) so their interactions in this book were really interesting.
I will never, ever like Tamlin or Jurian but for people that are interested in them you will still see them both as Feyre comes in Tamlin's court and Jurian brings the King's army to his lands. Jurian just seems like a lame character to me but I hate Tamlin because he's so arrogant and backwards like some of the older High Lords that think women belong to them and treat them like trophies but then double back to blame them when anything goes wrong. The one thing I hoped for Tamlin was an unhappy ending!
As for Lucien, I don't know, I've been annoyed at him since the previous book for his blind devotion to Tamlin and treatment of Feyre so I wasn't happy about seeing him again. Also, I thought he was totally undeserving of the gift he was given at the end of the previous book in finding his mate but I think he earned some recognition in this book with his actions towards Feyre and her family. I think Elain deserves a love that worships her because she's an absolute jewel of goodness and I know Lucien would give her that if given a chance but I definitely wanted him to work for it in this book.
Speaking of the parts, the book is split into three parts and each of those parts has their own goals, arc and conclusion so that was well thought out. I didn't know what to except with the pacing of this book but I was seriously pleased. The first hundred pages were so action packed and then when it went into the second part of the book it was a totally unexpected twist for me. I usually have to spend a hundred pages with most books before I settle into it but these books have always kept me glued to them from start to finish so they do deserve some awards for being so damn addictive!
I'm really glad that things were so fast paced though because we were given a good sized portion of each arc without dwelling too long and losing interest. Seriously, it's a well-rounded story and I'm impressed that it held my attention through the entire thing! If I were to complain about one thing with the pacing it would be when the war really surged up and went further to the climatic point because war really does bore me so the constant fighting in battles was a little slow for about fifty pages of that part. Although, fifty pages is nothing compared to the other 650 pages I was completely in love with so I'm more noting that point for reference of others rather than complaining.
The conclusion to Feyre's journey that began with so much struggle, then over the wall, into the Fae Courts and to her happiness and concluding with her fate was a magical one. I don't often get outwardly emotional or vocal when I'm reading but this book made me laugh and gasp so, so often. I was also actually, honestly crying for the last seventy of so pages of this book because I was feeling waves of happiness and sorrow at the same time and it was so full on. I'll probably come back to this review or write a separate spoiler-filled review at a later time after people have had a chance to read it but for now, these are just my very basic, emotional thoughts on ACOWAR. I am looking forward to discussing what happened in this book though because I have 35 sticky notes in my book of huge points for me on top of just overall squealing and gasping about the whole thing! I'm also hoping the novellas/stories set in this world while be just as amazing and I better see some of the characters of this trilogy in them further down in their lives with more adventures to share.
Goodreads Updates
—
Click here to add this book to Goodreads.
– Kirra // Goodreads