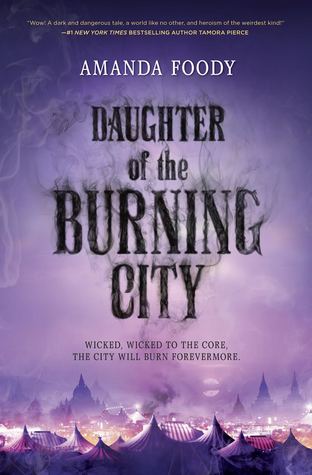 Daughter of the Burning City
by Amanda Foody
Rating: ★★★★
Sixteen-year-old Sorina has spent most of her life within the smouldering borders of the Gomorrah Festival. Yet even among the many unusual members of the travelling circus-city, Sorina stands apart as the only illusion-worker born in hundreds of years. Her creations are her family, and together they make up the cast of the Festival's Freak Show. But no matter how lifelike they may seem, her illusions are still just that—illusions, and not truly real. Or so she always believed…until one of them is murdered. Desperate to protect her family, Sorina must track down the culprit and determine how they killed a person who doesn't actually exist. Her search for answers leads her to the self-proclaimed gossip-worker Luca, and their investigation sends them through a haze of political turmoil and forbidden romance, and into the most sinister corners of the Festival. 
Daughter of the Burning City is another exciting addition to the young adult section this year that not only boasts an impressive, mysterious plot but also a variety of characters each with their own personal touches to this spiralling story. There seem to be more festival/carnival type settings popping up in recent YA and I'm all for that. I love the mysterious danger these places have where the idea of everything being fun and carefree can turn into a deadly game or hunt at the flip of a top hat. Although, since it is such a popular theme lately, I wasn't initially really interested in this book because I've read things really similar in the field the past year and I went past it a few times before I picked it up but I'm glad I did end up reading it because there was a really awesome plot waiting to be discovered inside.
Sorina is a fascinating character because, firstly, she doesn't have eyes, nothing at all there and secondly she has the ability to create "illusions" of people she dreams up in her head that become her family. She is also the adoptive daughter of the proprietor of the travelling Burning City so she's had a relativity normal and sheltered life so far under his protection but stares have always followed her so she often wears a mask when she wonders anywhere and feels most at peace with her family and her Freak Show act at the festival. While she may be blind herself her jynx-work that allows her to create illusions helps her see as a moth becomes her eyes that she can see through much like Sarai from Strange the Dreamer! She's very comfortable in this life she's moulded and her family is something she sees as always being permanent and unchanging until one day she finds one of them dead. It then becomes a burning question of how her illusions are able to be killed and more importantly, who killed them and why?
Honestly, I picked who was behind the murders almost as soon as the first one occurred and while it was disappointing to not be shocked or fooled by the whodunit I was still pleasantly surprised with the reasoning behind the culprit. I can't say I agree with why the villain did it at all but it was ingenious and very, very cool that could be expanded on greatly if there is a second book. I was so upset by one death in particular and also so frustrated that even some of her family members didn't believe someone was targeting them because it was so obviously not accidents, geez! I love when books make me feel that urge to just shake a character though and I think a duology would be perfect because the first one left me wanting more but you still want to leave some mystery!
I also think the pacing of the book was pretty well done too because there wasn't a moment throughout the book where I thought it was slowing down or I was starting to lose interest. The end of the book was, of course, heavy with sudden information as the secrets were uncovered but the start and middle also had great points that kept fueling the fire. I think readers will also enjoy the illustrations of the illusions throughout the book because they give you a better idea of what Sorina's creations look like (because they too have their own quirks and abilities) as well as information about their character. I'd recommend this book to lovers of The Night Circus, Strange the Dreamer and Caraval because they share the same lush fantasy and general setting/plot.
—
Thank you to Harlequin Teen Australia for this book in exchange for an honest review. Daughter of the Burning City will be released on the 24th of July, 2017!
Goodreads Updates
—
Click here to add this book to Goodreads.
– Kirra // Goodreads